Risk, Reset & Return is a partner and practitioner lead conference in collaboration with
SWIFT, SOSV, GLEIF, ConsenSys, and ANNA.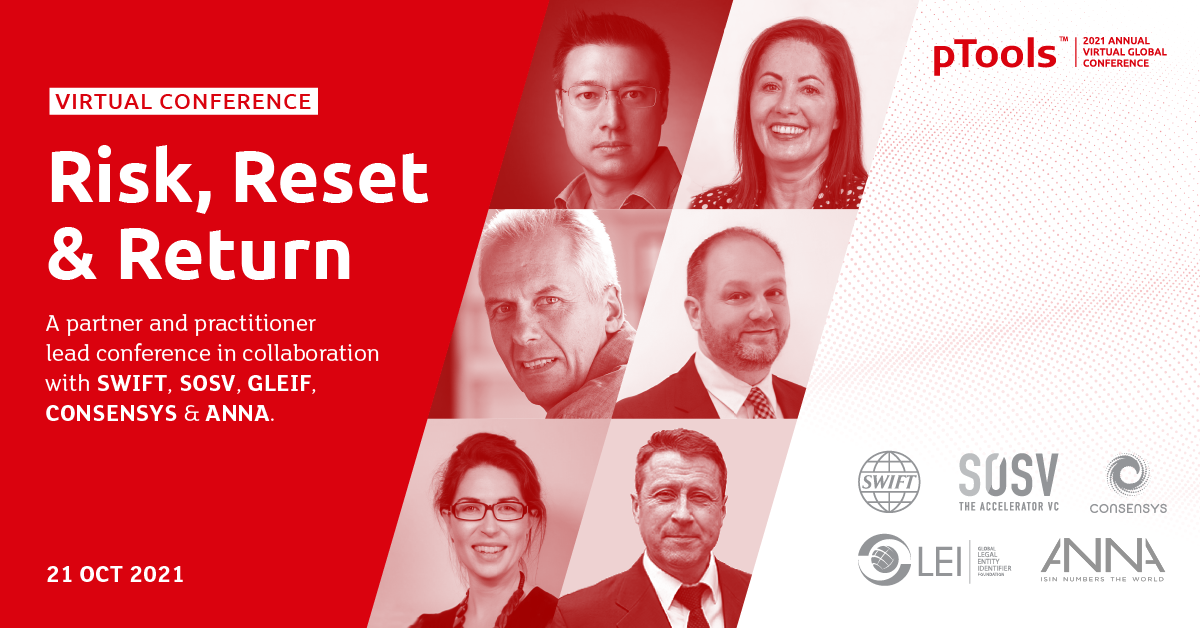 Throughout the day we will cover a series of overarching themes including:
Blockchain's potential and crypto currencies impact on the financial sector.
Adaptation of LEI in financial transaction messaging.
Financial Securities in a world of digital currency assets, how ISIN will aid.
Supply Chain - Due diligence and the role of the Legal Entity Identifier.


TIMES
SESSIONS

03:00 EST (New York)

08:00 BST (London)

15:00 HKT (Hong Kong)

Event opens with login by attendees, housekeeping and set up of first sessions.

03:15 EST (New York)

08:15 BST (London)

15:15 HKT (Hong Kong)

Opening remarks and welcoming of all participants from Tom Skinner- Managing Director, pTools.



03:30 EST (New York)

08:30 BST (London)

15:30 HKT (Hong Kong)

OPENING KEYNOTE - TBC will present the opening keynote for the conference.

04:00 EST (New York)

09:00 BST (London)

16:00 HKT (Hong Kong)

SESSION ONE – "Regulation and crypto currencies. A help or a hindrance?"             

Presentation by William Bao Bean, General Partner, SOSV



 

Description: William Bao Bean, General Partner at SOSV, and Managing director at Chinaccelerator MOX, will be joined by a panel of experts to discuss whether broader adoption of crypto currencies is being held back, or pushed forward by regulation.

To register please sign-up here.





05:00 EST (New York)

10:00 BST (London)

17:00 HKT (Hong Kong)

KEYNOTE ADDRESS 

Presentation by Francis Gross, Special Advisor, European Central Bank



Description: Francis Gross is a senior Advisor in the Directorate General Statistics of the European Central Bank where his immediate focus is on the "real world - data world" interface, primarily object identification. His interests include developing vision and strategy for overcoming the dual disruption of rapid globalization and digitization, as well as designing and driving the implementation of concrete, feasible measures with transformational power to ultimately deliver measurement tools effective at the scale and speed of today's finance, especially in a crisis. He serves on the Regulatory Oversight Committee of the Global LEI System (GLEIS) and has been instrumental in the emergence and development of the GLEIS.

To register please sign-up here.

BREAK AND PREPARATION FOR BLOCKCHAIN

06:00 EST (New York)

11:00 BST (London)

18:00 HKT (Hong Kong)

SESSION TWO – "Blockchain and its potential within the exchange ecosystem"   

Presentation by Monica Singer, South Africa Lead, ConsenSys



Panel – Presentation will be followed by a panel discussion with industry participants joining
Monica Singer South Africa Lead of ConsenSys and Keith Wood CEO of pTools.

To register please sign-up here.






07:00 EST (New York)

12:00 BST (London)

19:00 HKT (Hong Kong)

SESSION THREE - "Adoption of LEI in financial transaction messaging."

Presentation by Paul Janssens, Program Director, SWIFT



Panel – Presentation will be followed by a panel discussion with industry participants joining
Paul Janssens Program Director of Swift and Pavel Horacek, Head of Product Development at pTools.

To register please sign-up here.




BREAK AND PREPARATION FOR FINANCIAL SECURITIES

LAUNCH OF PTOOLS LEILEX 4.0


Presentation By Aisling Fitzpatrick and Sean Darcy of pTools.



This is a pre-recorded demo of pTools LEILex 4.0

pTools LEILex Beta provides FTSE100 or Nasdaq100 LEI Listed Entity Identification and Related Regulated News.



09:00 EST (New York)

14:00 BST (London)

21:00 HKT (Hong Kong)

SESSION FOUR - "Financial securities in a world of digital assets; how ISIN will help."

Presentation By Stephan Dreyer, Managing Director, ANNA





Panel – Presentation will be followed by a panel discussion with industry participants joining
Stephan Dreyer, Managing Director of ANNA and Gavin Johnson, Solutions Architect at pTools.

To register please sign-up here.





BREAK AND PREPARATION FOR SUPPLY CHAIN AND LEI

10:30 EST (New York)

15:30 BST (London)

22:30 HKT (Hong Kong)

SESSION FIVE- "Supply Chain Due Diligence and the Role of the Legal Entity Identifier"

Presentation by Clare Rowley, Head of Business Operations, GLEIF





Panel – Presentation will be followed by a panel discussion with industry participants joining Clare Rowley, Head of Business Operations, GLEIF and Fionn Daly, Head of Marketing at pTools.



To register please sign-up here.




11:00 EST (New York)

16:00 BST (London)

23:00 HKT (Hong Kong)

Closing Remarks by Tom Skinner, Managing Director, pTools.





12:00 EST (New York)

17:00 BST (London)

00:00 HKT (Hong Kong)

CONFERENCE ENDS